About us
TOP 3
company in the HOD market
Home and office water delivery in 56 Russian regions
TOP 15
bottled water supplier
in terms of sales through federal and local retail chains in Russia
customers in the HOD segment monthly
customers in the retail segment daily
business partners in Russia and abroad
500
million litres per annum
our production capacity
in Nizhny Arkhyz and Cherkessk
in ownership, including wells at the Arkhyz mineral water reservoir
production
AQUALINE operates the most advanced bottling and palletizing equipment, including 7 bottling lines from leading global manufacturers, such as Bardi, Krones, Kosme and Steelhead.
Our in-house laboratory is an assurance of product quality. Water quality tests are conducted in a laboratory certified by the local office of the Russian Federal Service for Surveillance on Consumer Rights Protection and Human Wellbeing (Rospotrebnadzor).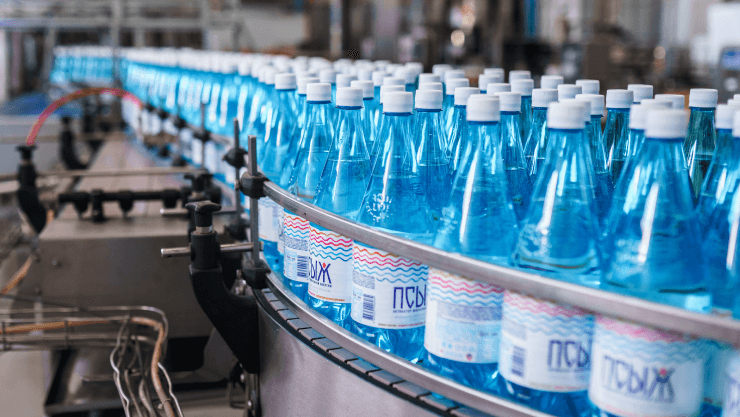 All water tests are carried out by employees of a laboratory certified by the regional center of Rospotrebnadzor.
Quality control
Our quality control process is divided into 3 phases:
    
Water testing upon abstraction from the well
    
During-production checks every 30 minutes
    
Follow-up checks by product quality inspectors
AQUALINE products are made to comply with an ISO 22000-certified food safety management system.
HISTORY
AQUALINE was founded in 1998 in the Karachay-Cherkess Republic.
1998
2000
2002
2006
2008
2010
2013
2016
2017
2018
2019
2020
- 15 employees
- 1 manual bottling line in Cherkessk
- 1 product (natural mineral water)
- 1,000 bottles per hour (bph) in capacity
- 45 employees
- 1 semi-automatic bottling line in Cherkessk
- Production of mineral waters and soft drinks
- 5,000 bph in capacity

- Gornaya Vershina brand brought to market
- 2nd factory opened in Nizhny Arkhyz
- 19L bottles put into production
- 120 production staff

- Steelhead 900 bph bottling system (USA) installed at Nizhny Arkhyz factory
- Legenda Gor brand brought to market
- Krones 9,000 bph bottling line (Germany) installed at Cherkessk factory
- Elbrusinka brand brought to market
- Bardi 600 bph bottling line (Italy) installed at Nizhny Arkhyz factory

- DlyaLyal brand brought to market
- - KHS 17,600 bph bottling line (Germany) installed at Cherkessk factory

- Psyzh brand brought to market
- Krones 6,000 bph bottling line (Germany) installed at Cherkessk factory

- High-performance automatic palletizing system installed
- 6,000 sqm distribution warehouse put in operation
- Production-to-storage conveyor system installed and commissioned
- International market entry
- Launch of the AQUAGRACIO brand